If you've never been to Japan, book your plane ticket today. No, really. I admit I pretty much fall in love with each place I visit. But, honestly Japan took my breath away. Japan offers everything from long history and deep culture, extreme cleanliness, amazing cuisine with the utmost quality, it's kind people, prompt schedules and some of the most beautiful landscapes a camera will have trouble capturing. It's one of the safest places you can visit. And, if you take the time to learn some of the basics in the Japanese language and customs it will give you so much more in return.
Several years ago when my niece graduated college, my gift to her was a plane ticket to a destination of her choice. She chose Spain and Portugal, but that's for another blog post. My reason for a plane ticket was I wanted her to have an experience before she began her whole life of grinding away working like the rest of us. And, ever since that travel bug bit me back in 2001, I know each time I travel to a new place and meet new people in different cultures my world continues to open up. I wanted the same for her. After my nephew graduated from college a couple of years ago I knew I had to do the same for him. He finally settled on Japan, as he is a much different traveler and human than his sister. And, since my mom is retired and my travel buddy, she tagged along for the ride. So, the three of us, Grammy, Auntie and my nephew, Zach were off to Japan.
We opted for fifteen days in total, the main reason was my nephew's work schedule and about two weeks is a good amount of time to miss your own bed and pillow. Plus you lose a day of travel on the way there and one day on the way back, making it thirteen full days in country We were lucky enough to find decent flight prices out of Los Angeles on a round trip to Tokyo. Surprisingly, it was cheaper than flying out of the San Francisco Bay Area, where Grammy and Zach live. Our original thought was to fly into one city and out of another for optimal travel time around Japan, but the round trip ended up being best economically. Thankfully we did that as there were some pretty bad storms during our planning which affected Osaka airport and the city of Hiroshima. So we had to remove Hiroshima completely from our itinerary, which we were bummed about. Once we bought our round trip tickets six months before International departure, the detail planning began.
I am the designated family trip planner & photographer. My job is to read, research, consult my travel companions, book hotels, flights, make the itinerary, etc. They help along the way, but they pretty much let me work my process. My go to trip planning guides are Rick Steve's books. I really like his tips, ease of information, etc. as he's been traveling to Europe for years. However, he doesn't have any guidebooks for Japan, so I was on my own. I tried the typical books like Eyewitness Guides and Lonely Planet plus some independent books, but nothing was really working for me. So, I went online to blogs, Pinterest, TripAdvisor and good 'ol Google to plan the upcoming trip. Pinterest and blog posts from previous travelers really helped me where the other guidebooks were falling short. It helped us plan experiences, in addition to, the typical tourist things. Overall, we were really pleased with the outcome. Here's what we ended up experiencing on our trip to Japan.
Day 1 - September 24, 2018 - Grammy & Zach travel to Los Angeles from Oakland, CA
They flew into Burbank from Oakland on a 5pm flight. We had an early dinner and we all went to bed relatively early in preparation for our morning flight to Tokyo.
Day 2 - September 25, 2018 - Travel Los Angeles, CA to Tokyo-Haneda Airport, Japan
We departed LAX at 9:50am and flew direct 11 hours and 55 minutes into Tokyo-Haneda Airport. Since Japan is seventeen hours ahead of California, we definitely lost a day traveling there.
Day 3 - September 26, 2018 - Arrival in Tokyo I Tokyo Disney & Disney Sea
Upon arrival and once we were through customs and immigration at the airport we took care of business. We picked up & validated our Japan Rail passes at the JR East Travel Service Counter. Please note, you have to purchase your JR Train passes before you leave your country of origin. You can not purchase your discounted JR Train passes once you are in Japan. We also picked up our mobile Wi-Fi device at another counter in a different part of the airport. Since Japan does not work with our mobile provider, we opted to rent a mobile Wi-Fi device when we purchased our JR Train passes online. They charge a small fee per day and up to 10 devices can be connected for you and your travel companions. The company also provides a pre-stamped envelope for you to put your mobile Wi-Fi into the mail before you leave Japan. The efficiency in Japan is amazing. Once we had all our tickets, devices, luggage and a bathroom break we made our way to the bus departure area and bought a bus ticket from Friendly Airport Limousine Bus company for about 9.50 yen per person for our 55 minute bus ride to our hotel.
One note about travel and public transportation in Japan. People will cue up and wait until all people have loaded out of the mode of transportation (trains, buses, anything) before loading. Generally the Japanese are quiet and not loud. They do not eat on public transportation and always take their garbage with them. When an older person loads onto, say the train, younger people will get up and offer them their seat out of a sign of respect. Phones are set to silent and you'll never hear anyone speaking on their phone or being loud, even children. It's a vast contrast to America and public transportation here.
After the hour long bus ride from Tokyo-Haneda Airport, we arrived at our first hotel, The Disney Celebration Hotel. We wanted to ease into Japanese culture and what better way to do that than to visit a Disney property half way around the world. It was a different, but yet so familiar as well.
We were pretty tired and it was raining steadily outside so we walked a few blocks to a local restaurant for a quick bite, then off to an early rest. Tomorrow we were heading into the parks, rain or shine.
A quick note about bidets: They are everywhere! Love them or leave them, I personally love them! You can find them in public parks, train stations, malls, restaurants, hotels! While most of the bidets were written in Japanese, we had to just push buttons until we figured it out. Some have seat warmers for those colder days and others play music or other pleasant sounds like chirping birds to hide any personal noises you or others might have. One more example of Japanese efficiency. Have I mentioned how much I love Japan yet?
Day 4 - September 27, 2018 - Tokyo Disney & Disney Sea
Unfortunately, we were all wide awake at 4:00am! So, we had an early breakfast and into the parks we'd go. We purchased our tickets through the hotel since it was a Disney property and we were able to gain early access. Grammy benefited with being a senior throughout most of our trip with discounts on many entrance fees to parks, museums, transportation, etc. The older generation is highly respected and cared for in Japan. Park Fees were 1-Park Adult 7,400 yen = $66.00 US / 1-Park Senior 6,700 yen = $60.00 US. They recommend only one park per day because there is so much to see and do, but since we only had one day to do Disney we did half the day in Disney Sea and ended our day at Tokyo Disneyland.
It was still raining pretty heavy that morning, but we didn't let it stop us. Especially during the Tokyo Disney 35th Anniversary Celebration. We hopped on the free hotel shuttle for the 20-minute ride to Disney Sea and then entered 10 minutes early before the park opened. As we walked into Disney Sea it seemed like the entire park's cast members were out waving to welcome us. We followed the massive crowds running toward Toy Story. And, decided to get fast passes for later. Then quickly made our way over to Tower of Terror for Zach. We heard that the lines in both parks could be upwards of 2+ hours so we took advantage of faster lines while we could.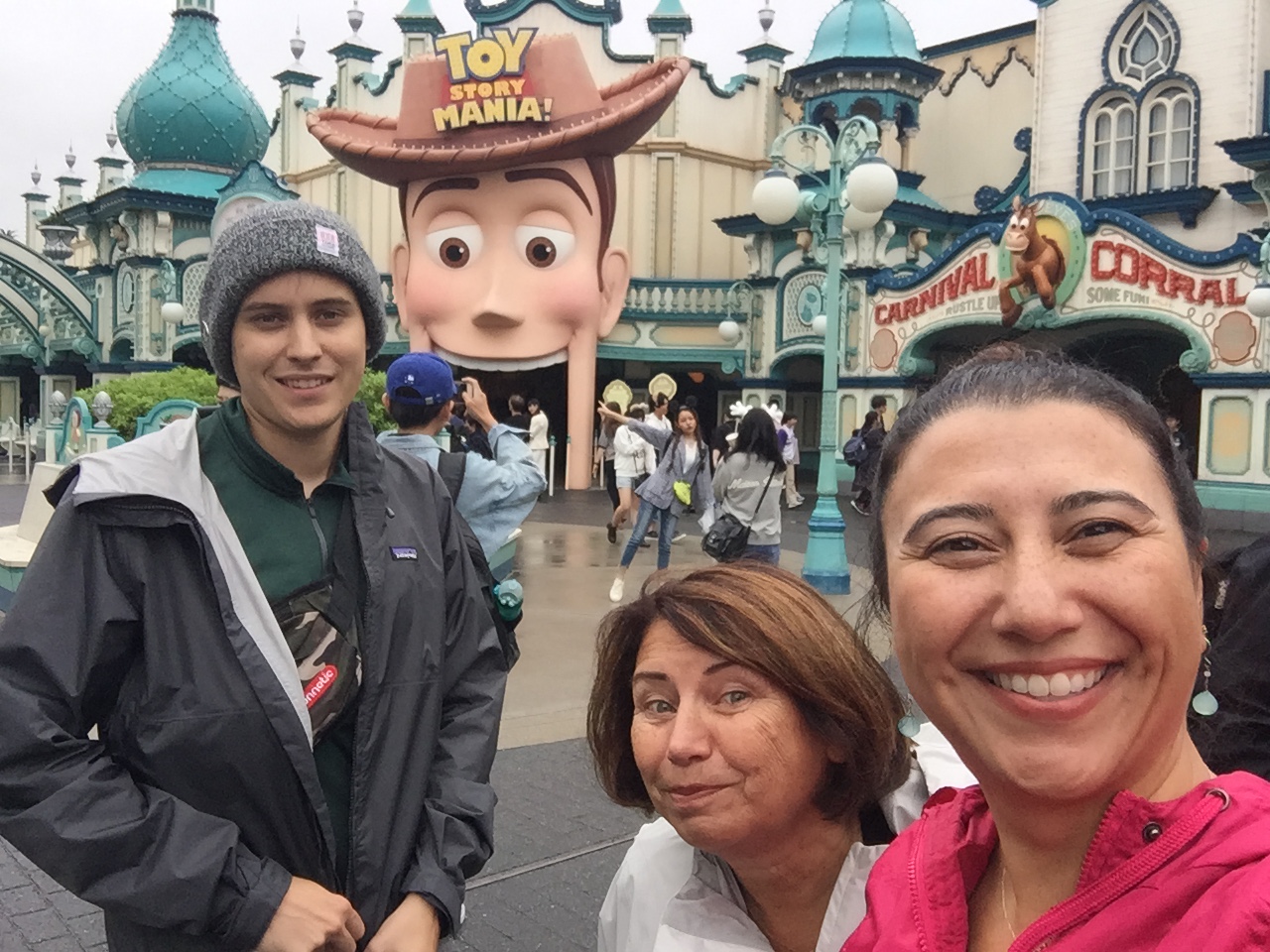 Disney Sea is huge and has some rides that are familiar, but some areas are completely new and fun to experience for the first time. We worked our way around the park and road rides that we don't have in California. Even in the rain the lines were about an hour long each. The people watching and cosplay is top notch. We saw groups of friends dressed at Snow White and the Seven Dwarves. A couple of friends dressed as Donald Duck among many other costumes. One other thing we noticed is how well the Japanese dress. Even in the rain most people were dressed very well from heels, suits, dresses. Not many jeans and t-shirts or tennis shoes like we're used to in our parks.
At about 3:00pm we made our way over to Tokyo Disney as the jet leg was starting to set in. We took the monorail and entered the park. It was beautiful with the decorations for their 35th anniversary. The castle was much larger than Sleeping Beauty's Castle in California. But, the crowds were the same.
Just like in Disney Sea, Tokyo Disneyland had some familiar rides but with a twist. We enjoyed ourselves just walking and enjoying the sights, sounds, smells and people watching.
We ate dinner in the park, rode a few rides and did a little shopping too. We finished just in time for the evening's fireworks show. After the fireworks, we headed back to our hotel for a well deserved full night's sleep.
Day 5 - September 28, 2018 - Travel to Osaka, Japan
Today we traveled from Tokyo Disney to Osaka, Japan for about two hours on our first high speed Shinkansen JR train. Upon arrival in Osaka, we walked about 10 minutes to our hotel. Passing lots of shopping, restaurants and our first real city life.
Our hotel, the Karaksa Hotel Osaka Namba, was located a short ten minute walk to the nearby popular Dotonbori Street in the Namba District, which was a great area. We were just far enough away from all the hustle and bustle, but close enough to get there in a short walk. Around our hotel there were plenty of options for street food, restaurants and bars.
As with most hotels in Japan, the rooms are on the smaller size with not a lot of extra space. They are compact and efficient. Most have a separate room for the toilet and another separate room for the shower and sink. Additionally, most hotels will provide you with pajamas, slippers (as shoes should not be worn in the room), shampoo, conditioner, body soap, body sponge, lotion, toothbrush, toothpaste, blow dryer, and hair brush or comb. Which was very convenient. So, don't pack too much as it's provided. After we checked-in and had a short rest, we got cleaned up and walked over to Dotonbori Street to explore the area and find dinner.
Osaka is the 2nd largest city in Japan where old meets new. And, known for their great street food. Eat here! They are known for being Japan's food capital. Some of the must try street foods in Osaka are Kushikatsu (deep fried skewers), Takoyaki (fried battered octopus), Okonomiyaki (savory style pancake).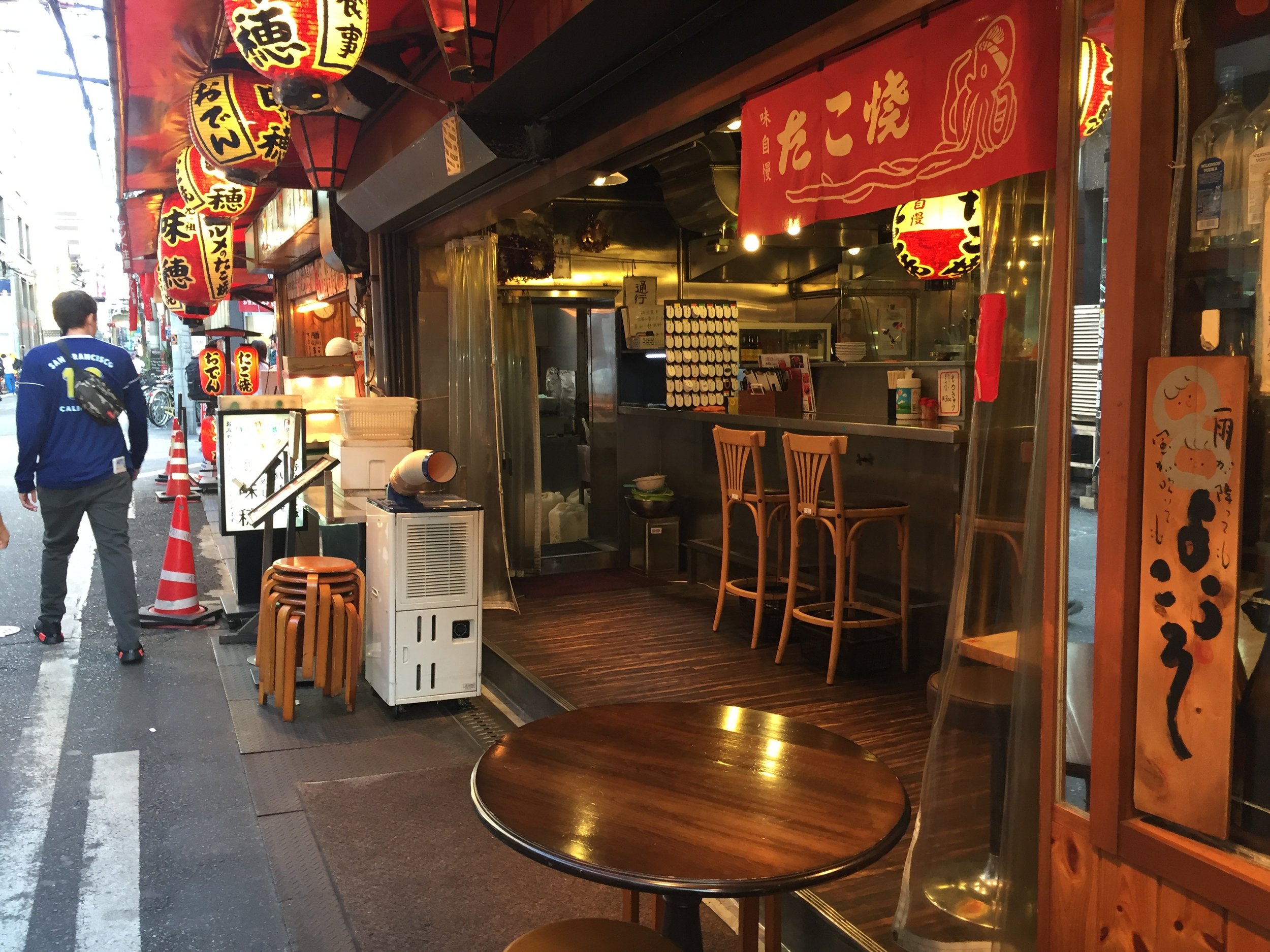 Unfortunately, the Floating Garden Observatory at the Umeda Sky Building was closed due to a previous storm. It's supposed to be a great view of the sunset and has a food court in the basement of the building. So, instead we ate at one of the many restaurant choices around Dotonbori Street. Zach suggested we try Japanese BBQ at Gyu-Kaku.
When we entered the restaurant we were asked to proceed up to the 3rd floor for our table. Once we removed our shoes, we sat at traditional tables, on the floor around our grill. Our table was next to a window overlooking the Dotonbori River and we watched the sunset from our table.
The service was excellent and since I have a soy allergy, the Google Translate app comes in handy explaining I needed my meat without any marinade containing soy. I hate being 'that person', however, I know my health and not getting sick while on vacation in a foreign country is more important than my pride. Every place we ate at in Japan was very understanding and accommodating. Google translate was my savior.
When in Japan, try the sake. Hot or cold, your choice. But, the alcoholic fermented rice wine is like table wine for the Italians. Personally we enjoyed the hot sake a little more. And, we introduced sake to Grammy which she enjoyed, on more than one occasion.
After dinner we wandered around the streets until we found the Honzenji Yokocho Alleyway. The alleyway has the Honzenji Temple at the end of the Edo-era alley which is surrounded by 60 plus restaurants. Take the time to find the alley and snap a photo or two. It's crazy to think this quiet alley is just a few steps from the insanely crowded, loud and flashy Dotonbori street.
Zach is all about fashion and knew that Japan was the place to buy clothes. And, Osaka has some great places for shopping including the Shinsaibashi Suji Shopping Arcade, near Dotonbori Street. Plus the Amerika-mura (AKA American Village or Rinku Town). Since we were already near Dotonbori, we decided to visit the Shinsaibashi Suji Shopping Arcade that has over 600 meters in length of shopping options from glasses, clothing, shoes, beauty stores and more. Good place to walk off a meal and window shop.
Day 6 - September 29, 2018 - Osaka, Japan
When we woke up and ventured down to breakfast in the hotel, we learned that Typhoon Trami was due to hit Osaka, and Japan, the following morning. We didn't really understand what that meant so we continued with our breakfast which was a mixture of both Western and Japanese style. It was raining, but no one seemed worried. They just grabbed their umbrellas and off they went.
After speaking with the front desk to get more information they suggested we stay inside the hotel and off the streets by that evening as it wouldn't be safe to be outside. Our current plan was to travel to Kyoto the following morning, but the front desk advised we stay put in their hotel. The hotel helped me call appointments we had scheduled for the next day in Kyoto so we could reschedule them. Since the typhoon was still several hours away, we thought it was best to get out and see as much as we could before everything closed. Our first stop was Osaka Castle.
Osaka Castle is probably one of the most iconic attractions in all of Japan. Osaka Castle began construction in 1583 and was rebuilt in 1931 after wars and fires. However, it did survive bombing raids from WWII that had destroyed most of the city. The castle is surrounded by huge park grounds, called the Nishinomaru Gardens, where many visit in both rain and shine. We walked through the gardens to the entrance of the castle and did a self-tour viewing paintings of war and artifacts.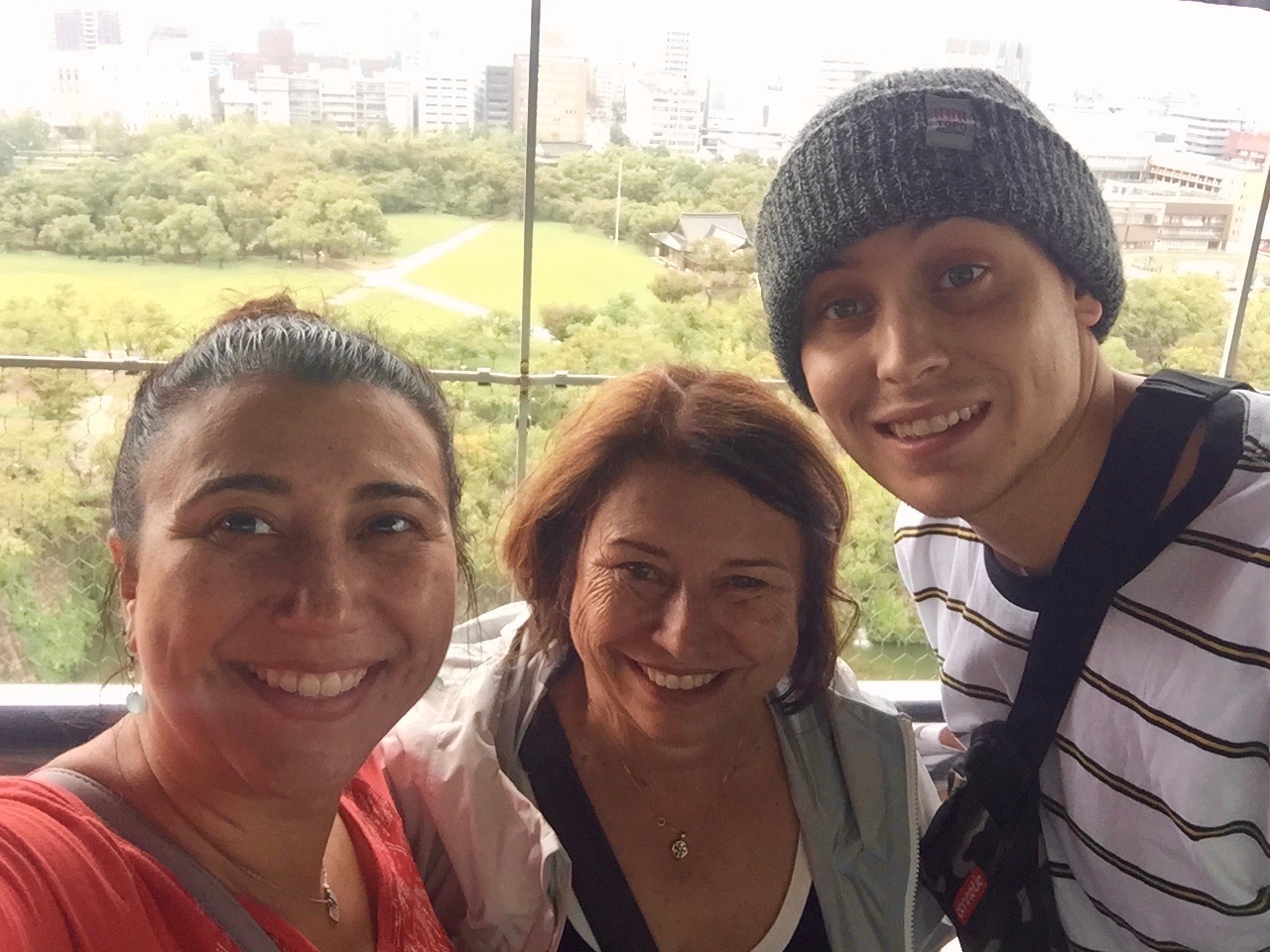 After we viewed Osaka Castle, we stopped for lunch and to warm up at a restaurant on the grounds called, Landmark Square. We enjoyed a nice and warm lunch before we took the subway to our next stop, Shitenno-ji Buddhist Temple.
Shitenno-Ji Buddhist Temple is one of Japan's oldest temples, which introduced Buddhism to Japan and dates back to 593 AD. Although the temple's buildings burned down several times throughout the centuries, they were carefully reconstructed to reflect the original 6th century design.
We arrived with about an hour before closing and walked through the grounds. We tried to pay to see the inner grounds and pagoda, but since we had only about ten minutes left, they left us visit without paying. We quickly viewed as much as we could before they closed. We wanted to also visit the Instant Noodle Museum on the outskirts of the city, but we thought it might be a good idea to head back toward the hotel and check on the typhoon.
The hotel told us the typhoon had slowed down and would hit first thing in the morning and they would extend our hotel room if needed. With the update, we grabbed a quick bite to eat, stocked up on supplies, like water and snacks at the local Family Mart, and did laundry at the hotel.
Day 7 - September 30, 2018 - Osaka to Kyoto, Japan
We woke up early and turned on the news. Even in Japanese we could understand that the approaching Typhoon Trami was getting serious. But, from what we could tell, we had a little more time. I quickly got dressed and went down to the front desk to ask them for an update. They said the typhoon has slowed down and would most likely hit sometime around 11:00am local time in Osaka.
However, they still advised we stay at the hotel and not try to travel to Kyoto, like we planned. I asked if all the transportation was still working and they confirmed it was. I went upstairs to our room and told Grammy and Zach the update. We made the decision to leave quickly on the JR train before all the trains and taxis stopped working, which would be very soon. If we stayed, we could be stuck for a day or more. We quickly packed and hopped in a taxi which drove on the very quiet streets to the train station. We made it on one of the last trains out of the city before all public transportation stopped for the day. Thankfully, it was only a quick 30 minute JR train from Osaka to Kyoto.
Come back soon to read more about when we arrived Kyoto, the Typhoon and beyond.